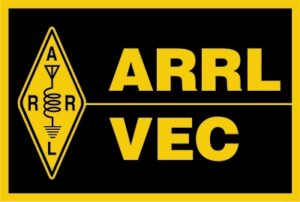 We're an approved ARRL VEC remote exam organization.
Click HERE to read testimonials from some of our recent examinees!
Information on this page was last updated Wednesday, March 22nd, 2023 at 2:00am Alaska Time.

Introduction
Fully remote testing is defined as a method of exam delivery where you have 1 applicant with two video feeds in the same room and at least 3 accredited Volunteer Examiners monitoring remotely by video conference. This page clearly identifies applicant eligibility, our exam schedule, technical requirements and much more! Should you not follow the requirements laid out below, or refuse to follow everything on this page, an exam will not be administered! We will not offer a refund for those who refuse to follow our instructions. You have been warned! To ensure you have the best possible experience, read this entire page carefully!

1.) Who is eligible?
The Aurora ARG VE Program will gladly administer a remote examination to anyone that meets our eligibility requirements:
— You must be a legally established resident of the United States;
— You must be a United States Citizen or Permananet Resident;
— You must have a valid, verifiable mailing address;
++ Due to known fraudulent use of mailing addresses in the United States, we will NOT provide examinations to individuals using mail-forwarding services, or for any person where the authenticity or authorization to use an address is deemed to be in question. No exceptions!!!!!

You must be physically present in any of the following locations to be tested:
— Anywhere in the 50 United States;
— Any U.S. Territory or Possession by the United States;
— OCONUS U.S. Armed Forces personnel and their dependents;
— U.S. Consulate or U.S. Embassy abroad;
++ Officers with a U.S. Consulate or U.S. Embassy must provide credentials and proof they are employed at that location.
— Stations within the U.S. Antarctic Program.

We will NOT administer an examination to any foreign national, regardless of their legal status unless they are a United States Citizen or Permanent Resident. No exceptions!

2.) Our Remote Exam Schedule
We offer remote exams twice per week, as shown below:

— Mondays at 6:00pm Alaska Time
— Thursdays at 3:00pm Alaska Time

All of our session times and correspondence are listed in Alaska Time. If you live outside Alaska, add the following to the listed time above to account for your local time zone:
— Pacific Time: Add 1 hour
— Mountain Time: Add 2 hours
— Central Time: Add 3 hours
— Eastern Time: Add 4 hours
— Atlantic Time: Add 5 hours

You are responsible for notating the time change based on your physical location. Our official time zone of operation is Alaska Time.

We close each session from receiving additional applicants 48 hours prior to our regularly scheduled start times, as listed above. We do NOT take last minute registrations. You must be prompt!
NOTE: We will work with applicants who are active duty military stationed OCONUS or forward deployed active duty military in coordinating a special remote exam session. If the request is reasonable, we will be more than glad to see if we can work with you. Keep in mind we can't assure the request will be met, but we'll certainly try!

3.) Technical Requirements for a Remote Examination
To be eligible for a remote examination, applicants must meet the following technical and setup requirements:
— You will need a reliable internet connection, suitable to adequately run two video feeds and one audio feed. You are not permitted to wear a headset while testing. You MUST be capable of operating without the assistance of earbuds or a headset. No exceptions!
— You will need one desktop or laptop computer with the Brave, Chromium, Google Chrome, Microsoft Edge, Mozilla Firefox, or Safari web browser installed. Installation links for each are below:
++ Download Brave
++ Download Chromium
++ Download Google Chrome
++ Download Microsoft Edge
++ Download Mozilla Firefox
++ Download Safari for OS X
++ NOTE: You will also want to make sure any browser addons or extensions are completely disabled prior to exam day to ensure no problems occur. This also includes disabling your VPN if you use one to browse the web.

— You will need a web camera that allows us to view the Examinee's head, face, and shoulders clearly, to be seen at all times during the examination. This same computer must have a microphone that allows the VE team to hear all sounds within the testing environment. We do ***NOT*** permit the use of a Microsoft Surface, any tablet, iPad or smartphone for taking the examination or as your primary camera feed. No exceptions. Below is an example of the view we need from the applicant's primary camera: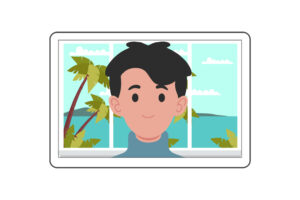 — You will need another computer with a web camera, a smart phone or tablet with a web camera to serve as your second video source. This secondary camera must be positioned in such a way to allow the VE team to see the examinee's hands, workspace, work on scratch paper, and/or calculator, and the computer monitor that is being used to display the examination. You may use a tablet, iPad, smartphone or a laptop (webcam built in) as your second video feed. Examinees are prohibited from using two cameras connected to the same desktop or laptop computer. The two camera feeds MUST be on separate devices. Below are some examples of the view we need from the applicant's secondary camera: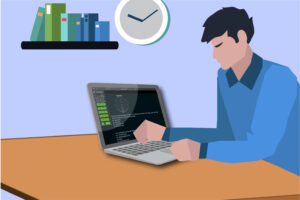 — When you join us on exam day, you'll be asked to setup your second camera to meet our monitoring requirements. Here are two examples of setting up your second camera to meet the additional viewing requirement: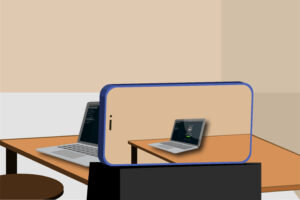 — You will need a current installation of Zoom. You do not need to have an account with Zoom for the exam. We do not use any other video conferencing applications. ZOOM MUST BE INSTALLED OR UPDATED ON YOUR PLANNED DEVICES PRIOR TO THE EXAM SESSION! Click HERE to download Zoom. The download page will open in a new tab on your browser.
++ Attention! We have numerous applicants who are not prepared to setup their second device when they join us for an exam session. Should there be any doubt in your ability to setup the second camera to meet our monitoring requirements, we strongly encourage you to find someone who can get on Zoom and practice the setup process. Should you not be prepared to correctly setup your second camera to meet our requirements laid out above on the day of your exam, you are at risk of not being permitted to test!!!It is ***VERY*** important you also understand that your Volunteer Examiner team will not spend extended periods of time helping you get this setup.It is ***YOUR*** responsibility for being prepared in advance! Doing so ensures everyone will get to test on time and no delays will occur for other applicants testing behind you. We strongly suggest thoroughly testing Zoom with both devices at the same time well in advance of the test so that you have time to resolve any issues that come up. This is also a great way to double check the setup of your second camera! You may practice using Zoom on both your devices here: https://zoom.us/test

— You will need a quiet room to complete the exam, free from distractions or interruptions. If you are testing in an open environment such as a living room or loft, those are acceptable as long as other people are not present during your examination. The Examinee MUST be the only person in the room during the exam. No one is permitted to enter the room while the examination is in progress.
If you are not able to setup two cameras, there are a couple of options. We would first recommend you test in-person, or if you live in Alaska, take a remote exam using a qualified proctor. You may read more about taking a proctored examination with the Last Frontier Volunteer Examiner Club by clicking HERE (link opens in a separate tab).

4.) Exam Environment Requirements
To ensure we maintain the highest standard of honesty and integrity possible, we require all examinees to show our Volunteer Examiner team the inside of their room on exam day. This is done after being briefed by our Examinee Setup & Support and upon arrival into your exam room. You are required to make sure any sensitive documents, amateur radio or electronics related information are completely out of sight and secured prior to exam day. We will ask you to show the following as part of setting up the environment on exam day:
— You will be asked to SLOWLY pan your second camera along all of the walls in your room, thus giving the Volunteer Examiner team a complete 360° view.
— You will then be asked to show the ceiling above your head to satisfy a clean space up above.
— You will be asked to show the entire top of your desk or table where the primary device is located.
— Lastly, you will be asked to show the floor where your feet are going to be while you test.

The objective is to make sure you have absolutely nothing on your walls that can help you with any exams! Should there be any material on display that is deemed questionable by the Volunteer Examiner team, you will be asked to take it down and secure it for the duration of your exam. If you are not willing to follow our instructions by securing sensitive documents and removing all materials that are deemed helpful on your exam PRIOR to testing with us, we will not serve you! No exceptions!

5.) Acceptable Proof of Positive Identity
The Aurora ARG VE Program will administer examinations to anyone with a mailing address that can be validated with the United States Postal Service. The applicant must also present a valid government issued photo identification from any U.S. state or federal authority. We accept any of the following types of valid, government issued photo identification for applicants over the age of 18:
— Driver Licenses or other State Photo Identification Cards issued by Department of Motor Vehicles (or equivalent) in any U.S. state or territory
— U.S. passport book
— U.S. passport card
— DHS trusted traveler cards (Global Entry, NEXUS, SENTRI, FAST)
— U.S. Department of Defense IDs, including dependent IDs
— U.S. Permanent resident cards
— Border crossing cards, issued by a U.S. government authority
— DHS-designated enhanced driver's licenses
— Transportation worker identification credentials issued by the U.S. Department of Homeland Security
— U.S. Merchant Mariner Credentials

If the applicant's legal name is different than what is printed on their primary document, they must present additional document(s) that provide proof of name change. This can be in the form of a marriage license or other court issued documentation positively attesting to the name change.

Amateur radio applicants under the age of 18 are not required to show photo identification. Should an applicant under the age of 18 have valid, government issued photo identification, it must fall into one of the categories as shown above for examinees over the age of 18. However, they must present at least TWO of the following if a child doesn't have photo ID to test with us:
— Certificate of U.S. Citizenship, Naturalization, or Birth Abroad
— An original or certified copy of a U.S. birth certificate issued by Vital Statistics
++ Certified Informational Copies are NOT valid for identity purposes!
— Employee ID
— Health Insurance Card
— Library Card with the applicant's name printed
— School ID
— Social Security Card
— A notarized letter from a parent or legal guardian attesting to the positive identity of the applicant (A clear photocopy of the parent or legal guardian's government issued photo identification must be attached to the letter otherwise this will not be an acceptable form of identifying an applicant under the age of 18.)

On exam day, the parent or legal guardian responsible for completeing the Monir Consent Form must be present at the start of the session to attest to the positive identity of the child and present their own photo ID.
For those who are physically testing outside the United States: Applicants must present proof of employment if working for a U.S. Consulate or U.S. Embassy abroad. If you are active duty U.S. Armed Forces or a dependent stationed abroad, we will need a copy of your orders proving you are stationed on a U.S. military base OCONUS. If you're stationed in Antarctica, we will need a scanned copy of your credential and a letter from someone in a position of authority attesting that you're indeed stationed on that continent.

6.) Applicants Under 18 (Minors)
If you, as an applicant, are under the age of 18, this section is for you! Before we can administer your examination, we MUST have a completed "Parental Consent Form". This form can be found by clicking HERE. This document is a fillable PDF. It must be completed by the legal parent or guardian and sent as an email attachment by the applicant's parent or legal guardian. You will need to email it to the address printed in the application as a PDF attachment. You are responsible for getting this back to us at least 24 hours prior to your exam!

7.) Examination Fee
Through a working agreement with the ARRL VEC, the cost for a remote examination session being sponsored through the Aurora ARG VE Program is currently $15. We offer FREE, subsidized exams to the following applicants:
— Applicants under the age of 18
— Active duty U.S. Armed Forces personnel
— U.S. Armed Forces veterans
— First Responders
— Sworn law enforcement officers

Applicants falling under this category will need to immediately notify us via email at ve(at)aarg.club with details on how you qualify for a fee exemption based as listed above. When you contact us, please be sure to provide your First and Last Name, FRN, date you have applied for and which of the above applies to be exempt from the $15 exam fee. Once we receive the email, further instructions will be given on the credentials we need to satisfy the exam fee waiver. Please be patient with us as we are volunteers and our club is based in Alaska. We may not get back to you right away and your understanding is appreciated in advance!

8.) Important Applicant Correspondence with the Aurora ARG VE Program
We use two email addresses for all communications with applicants regarding our exam service. To ensure you receive any and all communication from us, please whitelist the following email addresses PRIOR to completing any application:

testing(at)aarg.club
ve(at)aarg.club

NOTE: You will need to replace the (at) with a "@" in the addresses above. Your willingness to help us whitelist these two email addresses ensures you are receiving all communication relating to your remote examination.

9.) FCC requirements for your license to be granted
A Federal Registration Number, or FRN from the FCC is required on exam day. We can not accept a Social Security Number for new or existing licenses. If you do not have a FRN, you will need to complete a two step process. First, you will need to create an account in the FCC's CORES system. To do this, you will need to click HERE to create your account. It will open in a new tab. Once you have created your account and confirmed it, you will be able to login and register for a Federal Registration Number. If, you don't have the link to login to CORES, you may click HERE and a separate tab will open.
Once you have your FRN, do make sure you write it down, as it's required on exam day and your amateur radio license application. You will also be required to provide a valid email address. The FCC no longer issues paper copies of licenses and will deny processing any application without a valid email address. Also, your email address will be required for the FCC to send you a link to pay the $35 licensing fee. Per FCC Public Notice DA 22-307 released on March 23rd, 2022 the $35 licensing fee will apply to new licenses, systematic callsign changes, license renewals and vanity callsign applications. Applicants will not pay a $35 fee if they are doing a license upgrade or an Administrative Update such as an address change, update to your telephone number or email address as well as changing the name on your amateur radio license.
The FCC now requires all applicants to answer if they have been convicted of a felony crime in any U.S. state or federal court. If you have been convicted of a felony crime, there will be some additional steps required of you after passing your exam. More information on that can be found by clicking HERE (page will open in a new tab).

10.) Our Complete Applicant Process . . . read ***CAREFULLY***
To ensure we keep this simple, here is the entire process in a nut shell from start to finish . . .

— Step 1.) You will click the link below to begin your registration.

— Step 2.) When the page loads, select the date you want to take your exam from our "Exam Schedule" page. Make sure the club "AARG" is showing up on the session you are planning to register for as the administering club. Follow all proceeding instructions.

— Step 3.) Complete the amateur radio license application that follows. Make sure you have all of the requested information to complete the application.

— Step 4.) You will submit your amateur radio license application and see that it has been initially accepted by our exam platform.

— Step 5.) Once your amateur radio license application has been submitted, you will see a page to pay your exam fee. The exam fee of $15.00 and is payable by any major credit or debit card. Your exam fee is non-refundable. You will have 72 hours to pay the exam fee or else your application will be removed from our system. No exceptions!

— Step 6.) After paying for your exam, we will send you a confirmation email that details your exam date/time. That email will have further information on what happens next. Please check your junk or spam folder, as it may not appear in your inbox. This email WILL NOT have a Zoom link.

— Step 7.) Within 48 hours prior to your confirmed exam day, we will send you an email. It's entitled "Pre-Session Certification". That email will contain a link to our "Pre-Session Video Briefing and Certification" video. That video ***MUST*** be watched to its entirety. There are critical instructions contained in the video that must be followed, otherwise the remaining steps below do not happen and your application will not be processed any further.

— Step 8) After completing the required "Pre-Session Video Briefing and Certification", we will assign you a time slot to test with us. Once that time slot is assigned, we will send out an email entitled "IMPORTANT EXAM DAY INFO – DD MMM YYYY" (the DD MMM YYYY would be your exam date, i.e. 02 JAN 2023) which contains some final reminders of things that are necessary to have on hand prior to joining the exam session. Please check your junk or spam folder, as it may not appear in your inbox. This email WILL NOT have a Zoom link.

— Step 9.) When your exam time has come, you will receive an email with a subject that reads "It's time for your exam!" That is where you will see the link to join us on Zoom. Again, please check your junk or spam folder, as it may not appear in your inbox. This email WILL HAVE YOUR ZOOM LINK! Should you not make it to your confirmed exam session, your fee will not be refunded! However, if you are not able to make it and notify us within 24 hours, we will reschedule you at no cost. We will need a date you'd like to test. If you are unable to provide us a date, your application will be withdrawn and you'll have to reapply again. Another exam fee will be collected.

— Step 10.) Upon connecting to our Zoom conference, we will guide you through bringing in your second device. It will not be connected right away.

— Step 11.) After you have connected both devices, we will give you a URL to access the Examinee Login Page on HamExamGen. Once you're connected to our Zoom conference, you must have everything closed on your computer except Zoom. Nothing else should be open at this point. Please pay attention to the information being presented at that time.

— Step 12.) Upon being presented with the necessary information pertinent to your examination, you will go into your exam breakout room.

— Step 13.) Once in your exam breakout room, you will be given instructions on setting up your cameras, showing ID, scratch paper and calculator (as necessary). The Lead VE will cover our "rules of the road" and then your exam will begin.

— Step 14.) After finishing your exam, it will be graded. If you fail and are close to passing, it will be up to the Lead VE to authorize a retest. If a retest is not granted, you will have to register and test again at another time. If you passed, your results will be certified and your CSCE will be made available shortly thereafter.

— Step 15.) After you have collected your CSCE, we may be available to answer any questions you have regarding amateur radio or potential study for the next class of license, if desired. We will also give you pointers on how to reach us after you depart the exam session.

— Step 16.) Once you have departed and after the exam session is closed, we will send you a post-session email with some links of information. Please check your junk or spam folder, as it may not appear in your inbox. Your application will be forwarded to the VEC for processing.
11.) Our Rescheduling Policy
The Aurora Amateur Radio Group has a revised policy for those applicants needing to reschedule for any reason. If you must reschedule your examination, we will ask for a donation in the amount of $9.00 to support our subsidized exam program. Our subsidized exam program allows applicants who fall under one of the categories below to test with us at no cost to them. Eligible recipients of our subsidized exam program are as follows:

— Applicants under the age of 18
— Active duty U.S. Armed Forces personnel
— U.S. Armed Forces veterans
— First Responders, and
— Sworn law enforcement officers
Should you find yourself unwilling to make the donation in lieu of rescheduling your examination with us, we will remove your application from our system. From there, you'll simply have to re-apply and pay the regular exam fee. If you're the recipient of a subsidized examination, we will need to see your documents to confirm your application. Applicants are permitted to reschedule one time. No exceptions!
Please note if you have read this far and find yourself unable to fully comply with our instructions, please consider testing in-person. Remote testing is largely focused on those who are technologically capable and willing to follow clear instructions. Our Volunteer Examiner team works tirelessly to offer the best service possible and spend a lot of time doing what we enjoy by giving back. Please follow all instructions and be fully prepared so you are not wasting our time or yours.
Are you unsure if you're actually ready to test and want to take a practice exam using our platform? If so, please click HERE to launch our practice exam generator.
Still have questions? Take a look at our frequently asked questions page HERE.
Be sure to CAREFULLY read the instructions when completing your registration through our exam platform after clicking the link below!